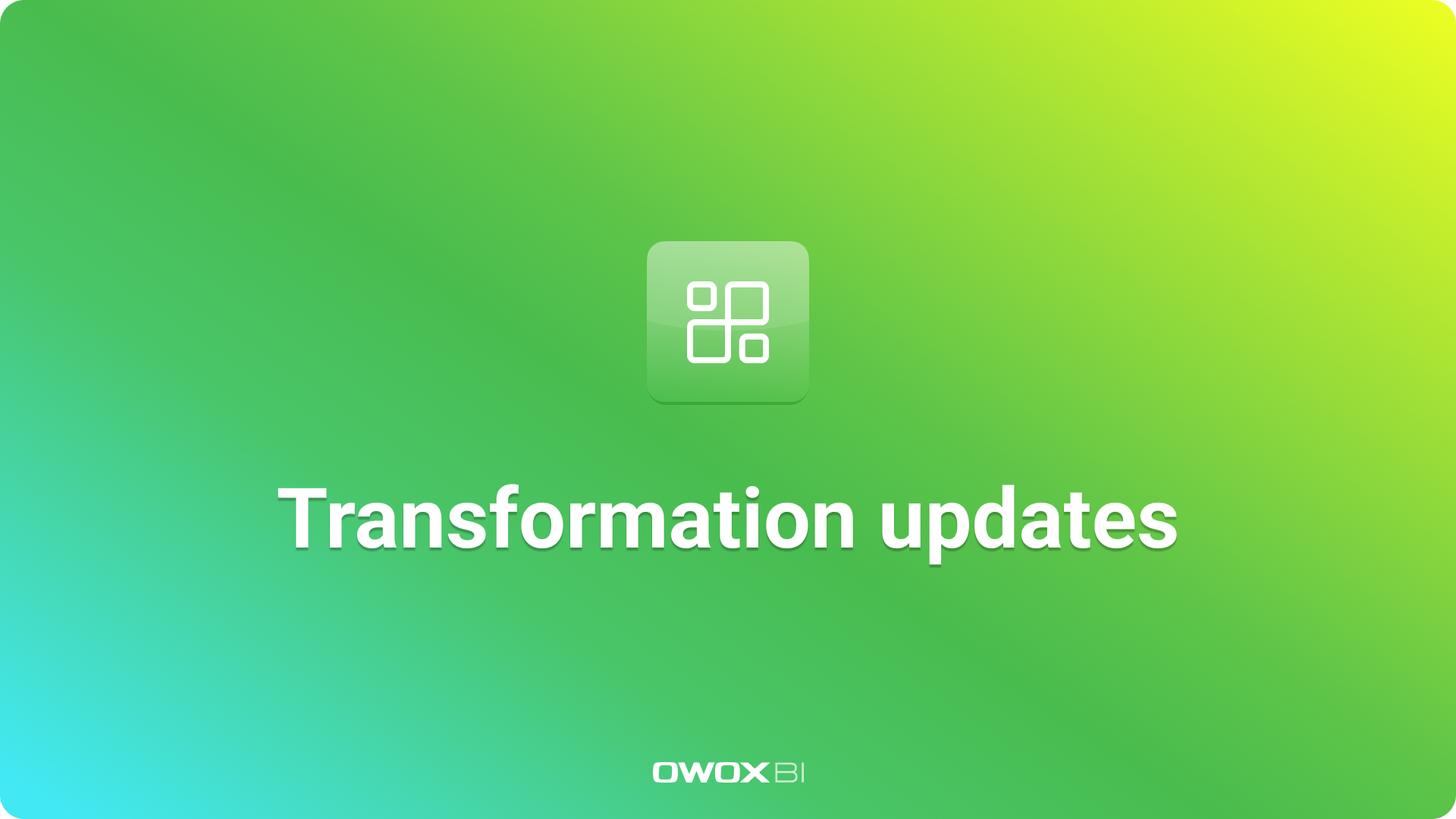 OWOX BI is dedicated to continuously enhancing our marketing analytics products. Today, we are delighted to introduce 12 remarkable improvements to OWOX BI Transformation. These enhancements are specifically designed to simplify the process for data engineers and analysts who configure data processing for marketing reports. By enabling seamless SQL code writing in Operations and providing enhanced control over Transformation runs, these improvements empower them to efficiently optimize their workflows and achieve greater precision in their data analysis.
We are grateful to our users for their valuable feedback, which has inspired us to incorporate numerous ideas and usage scenarios into our product. Their input has played a crucial role in shaping these enhancements. Through their feedback, we have been able to address their needs and create a more efficient and user-friendly experience.
We are excited to share these features with our users and look forward to their continued success in utilizing the OWOX BI Transformation product.
Variable order modification in the list
Now you can easily change the order in the variables list. Read more about variables.
Variable highlighting based on the selected Operation
This enhancement significantly accelerates your workflow when configuring Transformation templates. Read more about variables.
Quick enable or disable functions for all Operations in the list
This feature helps you swiftly set up Transformation runs with the necessary set of Operations. Read more.
Validation of SQL code in Operations
If an error is found in the code, it will be displayed on the screen. This allows you to avoid running Transformations that cannot be executed correctly. Read more about validations.
Predicted estimation of Operation run count
Display of predicted estimate of the number of Operation runs for each Operation with valid code, which is likely to be used during Transformation execution. Read more about estimations.
Preview tab
Added a Preview tab for each Operation, allowing you to view the compiled SQL code with substituted variable values that will be executed during Transformation runs. Read more about the Preview tab.
Copy compiled SQL code
Quick copying of the compiled SQL code on the Preview tab. This accelerates your work with Operations when you need to reuse the code in another editor.
Direct link to the Destination table
If you have configured the Destination for an Operation, you will now see a direct link to the Destination table on the Preview tab. Clicking on it will open the Google BigQuery interface with that table in a new tab.
Auto refreshing Run logs during execution
Animation and automatic data refresh during Transformation execution have been added to the Run log tab. Read more about the Run history tab.
Operations summary in Run log
A concise list with a description of each Operation's launch has been included in the Transformation run logs, making it easier for you to monitor the execution of the Transformation.
Stop running
Added the ability to stop the Transformation execution process. This allows you to save resources on data processing when preparing Transformations. Read more.
Easy duplication of a Transformation
Often, you need to make changes or experiment with an existing Transformation. Now, instead of copying the code for each Operation multiple times, you can simply create a duplicate of the Transformation with a few clicks and start modifying it. The original Transformation remains unchanged and continues to function. Read more.
BONUS
We have heard your feedback, and we are excited to announce that we have added search functionality to the SQL Editor. Now, you can quickly search for specific keywords, table names, or any other text within your SQL queries. This enhancement will help you navigate large queries and find relevant parts more efficiently.
Also, we have improved the editor's functionality and addressed reported issues with hotkeys in the code editor.
We are committed to continuously improving our product and ensuring your satisfaction. If you have any feedback or suggestions, please don't hesitate to reach out to us at bi@owox.com.
Thank you for choosing OWOX BI.