OWOX BI BigQuery Reports Add-on allows you to schedule the updating of the reports. To do this, select on the toolbar Add-ons→OWOX BI BigQuery Reports →Schedule reports: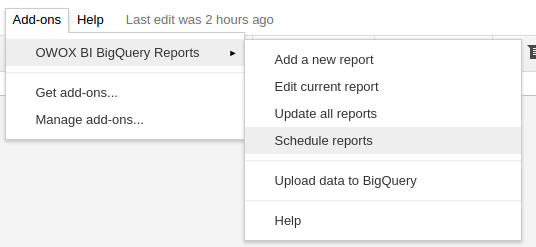 In the Schedule reports window:
Specify the schedule for updating.
Note, an automatic update is run based on UTC (GMT +0). Specify the desired time accordingly.
Select a list of reports, which will be updated.
Choose whether you want to receive email notifications. If yes: all or in case of errors only.
Confirm that you understand and agree with Google BigQuery pricing policy.