At OWOX, we develop product solutions in marketing analytics, and one of our goals is to increase the value of decisions made through quality data. Therefore, we follow all the events in marketing analytics. And in this article, we want to share our immediate plans for migrating to Google Analytics 4 with you.
In July 2019, Google announced a new version of Google Analytics 4 (GA4). And two and a half years later, the process of migrating from Google Universal Analytics (Classic) to GA4 began. It is necessary to complete the migration to GA4 before July 1, 2023, when data collection in Universal Analytics will be disabled. Or until July 1, 2024, if you're using Universal Analytics 360.
As you know, OWOX BI products use Google Universal Analytics client accounts. In this regard, we want to talk about our plans and answer frequent questions that we receive from customers.
You are currently using OWOX BI and Google Universal Analytics
At this time, no action is required on your side. OWOX specialists monitor updates of Google services in official sources so that you receive data automatically without interruption.
Import costs into Google Universal Analytics
Using the latest version of the Google Analytics API, OWOX BI Pipeline continues to import cost data automatically without any changes. And at the moment, Google has not published information about the possible disabling of this API.
We are waiting for the announcement of a new API version to start importing costs in Google Analytics 4. And we are ready to develop the necessary improvements in OWOX BI products so that our customers who are already using GA4 can start uploading costs. Stay tuned for updates in our Help Center.
Collecting website user behavior data
The OWOX BI access point accepts and processes data in full, regardless of data collection by Google Universal Analytics. The OWOX BI tracking code and the pipeline settings (Google Analytics → Google BigQuery User behavior data) do not need to be changed.
You are planning to upgrade to Google Analytics 4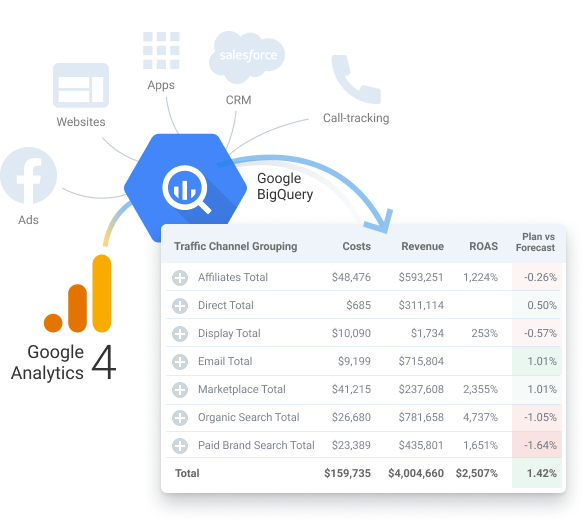 Google Analytics 4 uses an event-driven data model and a single logic for collecting data about user actions on the site and in the application. This implementation is radically different from the existing one in Google Universal Analytics, so when you switch to the Google Analytics 4 data format, you will need to rebuild all reporting.
Complete Google Analytics 4 implementation with OWOX
The OWOX team will assist you at every step:
Developing and deploying a customized metrics system;
Installing the Google Analytics 4 tracking code with Google Tag Manager;
Checking the quality and completeness of transferred data.
Transfer your reporting to Google Analytics 4
With OWOX, you will receive all the necessary reports you used to work with in Universal Analytics.
Complete audit of your analytics
OWOX will conduct a comprehensive audit of your current analytics system and GDPR compliance, then create a comprehensive development plan.
Get started with Google Analytics 4 now – book a demo.