From now on, all OWOX BI pipelines are created within OWOX BI projects.
You just need to open the OWOX BI project you need and create a pipeline there.
The pipeline will be created in this OWOX BI project, and no Google Analytics property or Google Cloud Platform project would be restricted from using as a source or a destination of the data in your project, even if they have connections to other OWOX BI projects.
The name of the project is now always displayed in the upper left of the interface, including the pipeline creation page: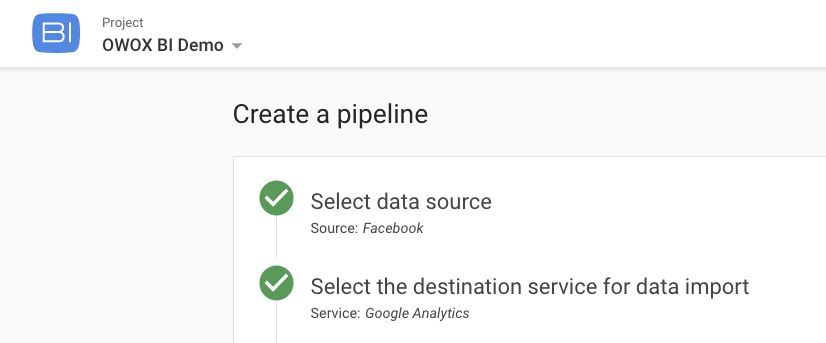 You can switch between OWOX BI projects while creating a pipeline but note that if you do it, you'll have to start creating the pipeline from step 1.
Limitations
To ensure your data from mixing up and duplicating, we still have to keep some limitations for pipeline creation.
For ad cost data import pipelines (ad services → Google Analytics / Google BigQuery):
You can't create a pipeline if another pipeline with the same source + destination (ad source account + Google Analytics property / Google BigQuery dataset) combination already exists
Users of the free Start subscription can't create a pipeline with a Google Analytics property that is already in use in any other OWOX BI project
For user behavior data pipelines (Google Analytics → Google BigQuery):
You can't create a pipeline with a Google Analytics property and/or Google BigQuery dataset that is already used in another pipeline in any OWOX BI project
We hope this update will make working with OWOX BI pipelines easier for you. And we're always happy to hear your feedback :)