Working with BigQuery dataset locations becomes easier in OWOX BI. Now you can:
Select the dataset location when creating a new dataset in OWOX BI
See where the datasets in your BigQuery project are located
See the location of the destination dataset of your Google Analytics → Google BigQuery pipeline
Selecting a location while creating the dataset for a new Google Analytics → Google BigQuery pipeline
Now, when creating the Google Analytics → Google BigQuery pipelines, you can not only quickly create a new BigQuery dataset but also select the multi-region location where the newly created dataset will be stored: US (United States) or EU (European Union).
If in order to comply with the GDPR requirements, you need to store all the user data within the European Union territory, you can create a new dataset right in the OWOX BI interface when creating a new pipeline, and select the right location for it, which is the EU.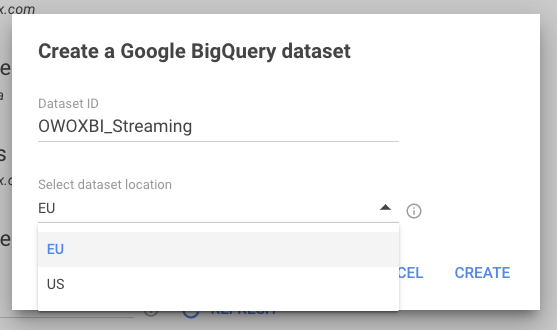 We also recommend you store all your data in the same location, so you could unite it in OWOX BI and use for Smart Data reports and Attribution.
Displaying dataset location while selecting from the existing datasets
The dataset location is now also displayed on both the Google Analytics → Google BigQuery pipeline creation page (when you select from the datasets already existing in your GCP project) and on the Google Ads campaigns data source settings page: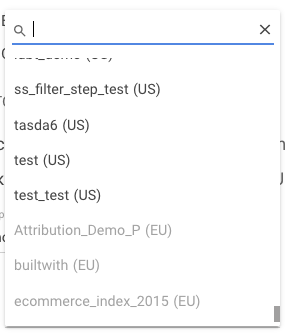 Google Ads campaign data sources must be located in the same location as the destination dataset of the Google Analytics → Google BigQuery pipeline. The selection of the datasets stored in a different location will be disabled as in the screenshot above.
The location of the current pipeline's destination dataset is displayed in the BigQuery dataset location field.
Displaying the destination dataset location on a pipeline page
The Google Analytics → Google BigQuery user behavior data pipeline page now displays the location of the dataset to which the pipeline uploads the data.
This info is displayed in the pipeline page header:

Read also: Transferring to and storing data in the EU location