Meet data source sets for the Smart Data reports!
Data source sets let you unite and organize data for getting reports in OWOX BI. Bring together website user behavior, offline transactions from your CRM, ad costs, and call tracking data. Manage all the connected sources right in OWOX BI and decide which of them you want to consider in your reports.
You can create several sets, each with different combinations of sources, and quickly switch between them anytime, even inside a Smart Data report.
What types of data can you add to the source sets
Data source sets can be assembled only with the data uploaded to Google BigQuery. The descriptions below contain links that help you figure out how to upload data of each type to BigQuery.
You can connect up to four data sources to a source set. Each source has its own type.
Type 1: User behavior data
Here, you can connect data collected either via OWOX BI's Google Analytics → Google BigQuery pipeline or via the BigQuery Export feature for Google Analytics 360.
More user behavior data sources to connect will become available in the upcoming OWOX BI updates.
Type 2: Ad cost data
As of now, Smart Data builds reports based on the ad cost data you upload to BigQuery via the Google Analytics Cost Data → Google BigQuery pipeline.
These are all the cost data from your Google Analytics property, including data you upload to GA with via the OWOX BI's ad cost data export feature.
After the future OWOX BI updates you'll also be able to connect the ad cost data uploaded to BigQuery directly — via the Facebook → Google BigQuery pipeline among the others.
Type 3: CRM data
This is transactions data uploaded to Google BigQuery from your CRM system. Having them added to a source set, you'll be able to align users' actions on your website with the offline purchases you have in your CRM, and build ROPO reports in Smart Data.
Here's how to upload CRM data to BigQuery.
Type 4: Call tracking data
Here, you can connect data about your customer's call activity collected by one of the call tracking services that have integration with OWOX BI: Ringostat, Calltracking.ru, CoMagic, Mango Office, or Calltouch. To connect a source of this type, you first need to connect data from a call tracking service to your OWOX BI user behavior data pipeline.
More on how the OWOX BI integration with call tracking services works.
And more info about the data you can connect to Smart Data to build reports upon you'll find in this Help Center article.
How to create and manage source sets
Before you create a source set, make sure your Google account you use to log into BogQuery has the BigQuery Admin access to all the data you are going to use in your reports.
If you used Smart Data before or you have a Google Analytics → Google BigQuery pipeline in OWOX BI, then the data model based on the data from this pipeline will automatically become a data source set that already contains a user behavior data source.
If you don't have any pipelines created or are using OWOX BI for the first time, then you'll see the demo data as your default source set.
How to create a source set
Go to Smart Data and click on the currently active source set in the upper right:
Click Create new source set, then Add new:
Enter a name for your source set and provide access to BigQuery. Make sure your Google account has the BigQuery Admin access to all the data you are going to add to this source set.
Now you can connect one source for each data type: 1) website user behavior, 2) ad cost, 3) CRM transactions and 4) call tracking data.
Once you finished connecting the sources you need, click on the lower right of the screen. Now you can build reports using all the data you've connected in this set.
Some tips on using data source sets
Adjust a source set for the needs of a specific report
If the switch on a card with connected data is on, the data from this report can be used in the report. Turn the switch off if you don't want this data to get into the report.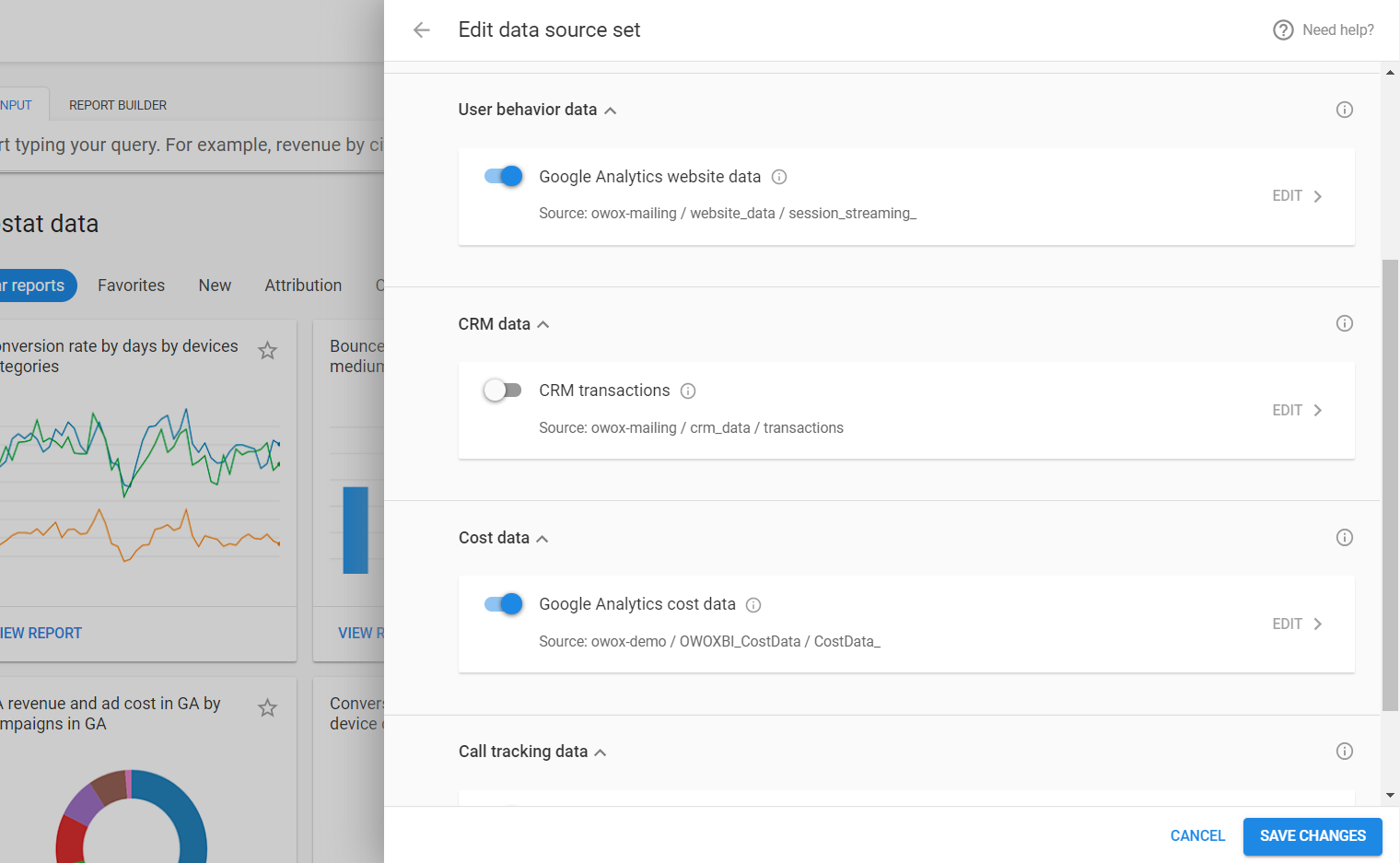 Manage the created sets
On the Manage data sources page, you can Edit, Set as default, and Delete sets.

In two clicks, change the data upon which you build a report
Create several source sets with different data and switch between them to see the same report aligned with different data. You don't need to build a new report each time you want to compare different data.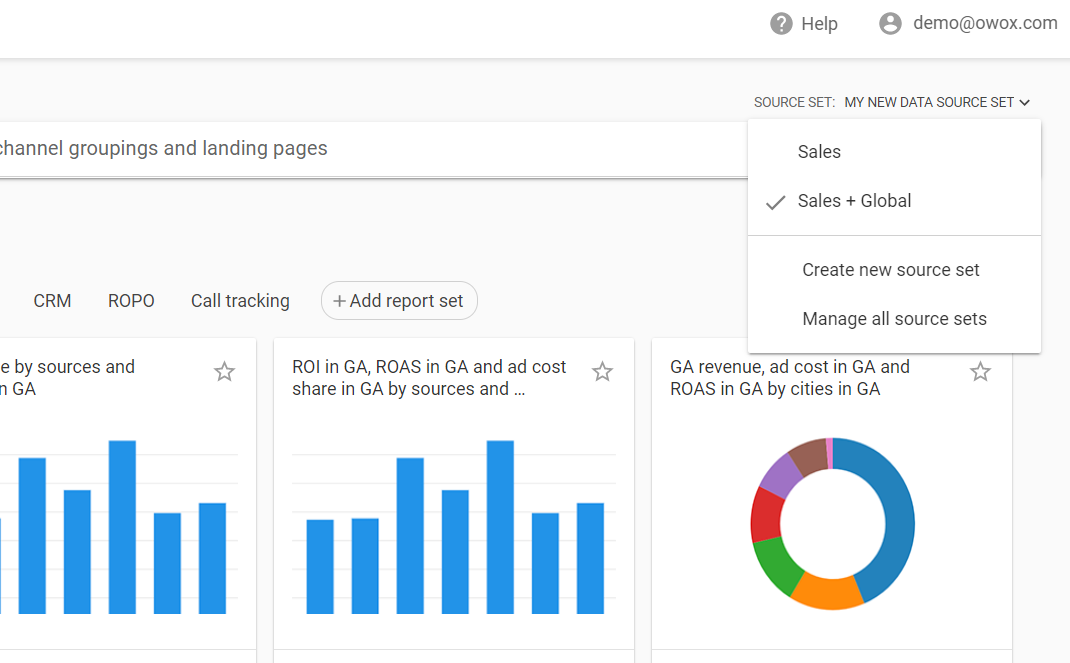 We hope the new data source sets will make uniting your data and building reports in Smart Data more comfortable and productive than ever.
Your feedback on the new feature is very important to us, so feel free to write to us at bi@owox.com and share your experience of uniting data and building reports in OWOX BI. We'll be happy hearing from you :)