OWOX BI is one tool to collect, normalize, prepare, orchestrate, and analyze your digital marketing data. Let's now dive deep into each OWOX BI product.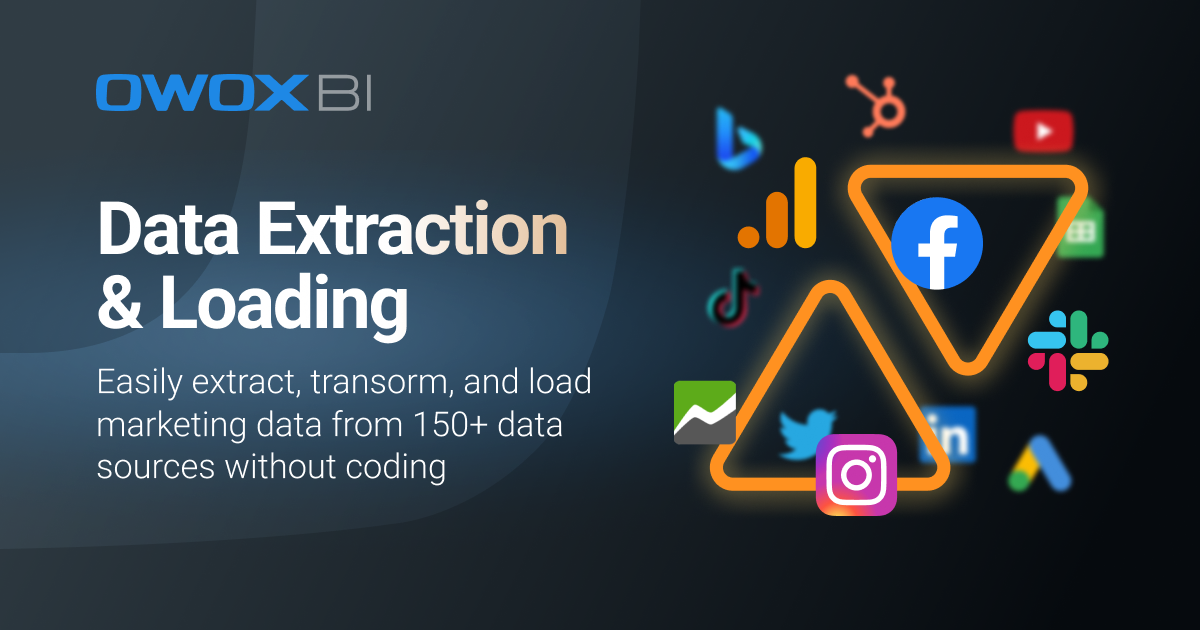 OWOX BI Pipeline
Automate data collection. With OWOX BI, you don't need to look for connectors or manually clean, process, and update data. You'll receive ready, automatically updated datasets.
Use convenient data schemas. OWOX BI provides you with data schemas with all necessary fields that are convenient for analysis. Data from different sources is automatically converted into a unified structure. After it's cleaned and normalized, data is exported to a separate table for each day.
OWOX BI Streaming
Track any user activity on your website in real time.
Cookieless server-side tracking out of the box. Eliminate blind spots in digital marketing. Collect first-party data, extend the cookie lifespan, avoid being affected by ad blockers, and find out the real acquisition source/medium.
Real-time data collection without unexpected delays. Enjoy always up-to-date reports and dashboards. Immediately get SQL-accessible analytics-ready data. No gaps or delays because of middleware.
Privacy-centric and secure solution. Gain complete control of consent and non-consent data. Collect and use personally identifiable information (PII) in line with the highest privacy and security standards.

Choose your data residency (EU, US, or global), remove PII for non-consent users, and encrypt all user data with custom keys.

Exceptional data completeness.

Work with unsampled data for accurate KPI calculations. Track any user activity on your site and get extra fields like is_bot, request_source, and owox.user_id defined at the event level.

Unleash all the power of owox.event_id for event deduplication and defining event sequences to assemble correct sessions for further reports.

Backward compatibility with Google Universal Analytics and Google Analytics 4 schemas.

Migrate to GA4 without headaches. Update your reports and save your historical data with a seamless transformation of GAU and GA4 data into a universal and business-ready format.

Automatically update Channel Grouping or any other metric calculation and use unique identifiers for deduplication.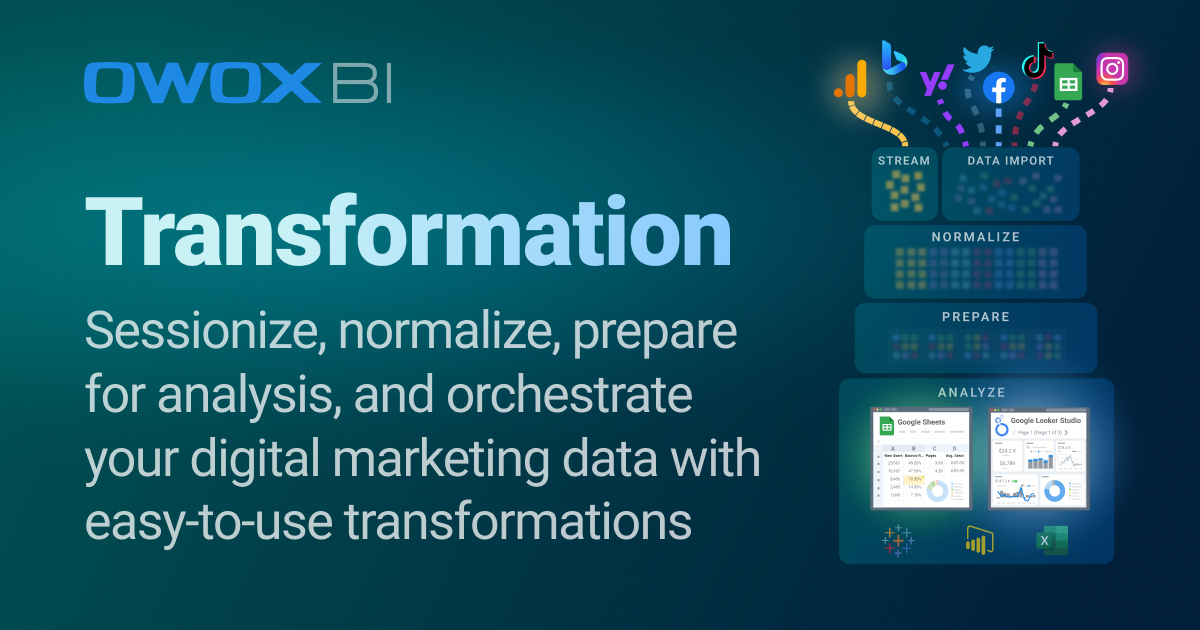 OWOX BI Transformation
Blend data to build dashboards. With OWOX BI, your data is ready for analysis. Easily blend data from advertising services, Google Analytics 4, your website, and your CRM to measure marketing effectiveness.

Build any report you need in minutes and visualize it in Google Data Studio, Google Sheets, or the BI tool of your choice.

Manage the whole data flow in an analyst-friendly UI. Control data processing and transformation in a convenient web interface with data lineage graphs. Track how data moves and changes from connectors to dashboards. Immediately see any error or delay in updating data.
Simplify data preparation. Use prebuilt SQL transformations (or create your own) to automatically prepare your data for reporting.
Read more about Transformation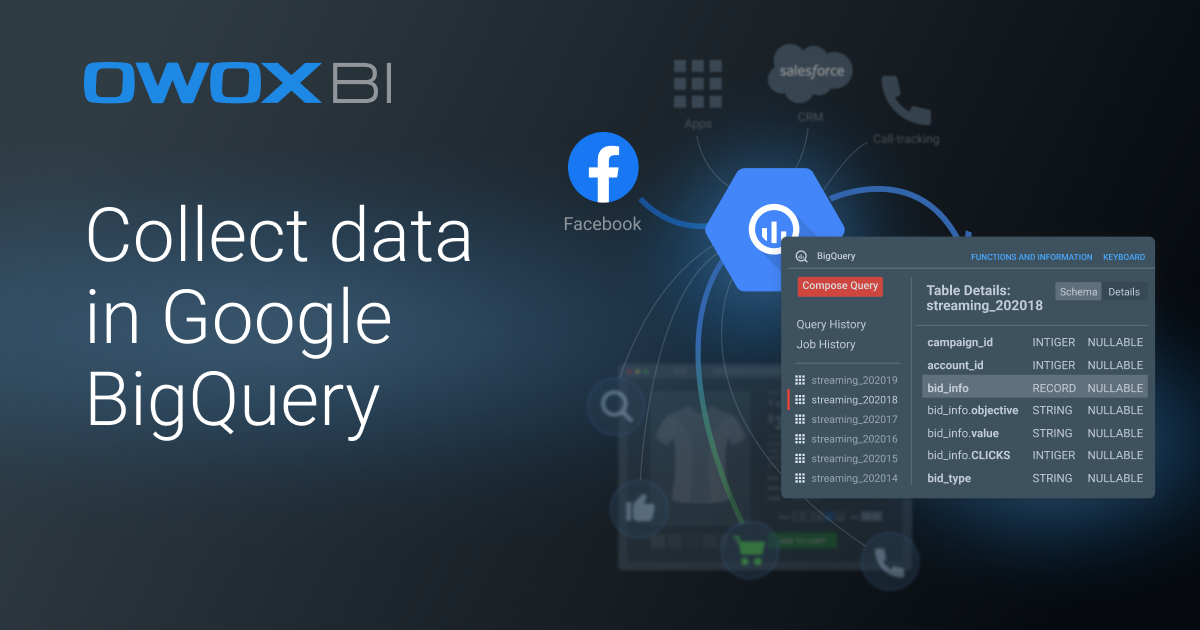 OWOX BI + Google Cloud
In order to start working with OWOX BI, you need access to Google BigQuery, a cloud analytics service working both as a data storage and data processing and analytics tool.
Google BigQuery can easily store up to petabytes of raw non-sampled data. It doesn't need admins or maintenance and the data processing is affordable: $5 per terabyte.
To start working with BigQuery, you only need to create a Google Cloud project (free trial available).