In this comprehensive guide, you will find step-by-step instructions about how to create a Data Provider shortcut and how to connect it with your BigQuery data source using your OWOX BI project. This powerful feature allows you to streamline your data analysis and reporting by providing quick access to specific data sources.
So, let's dive into the instructions and get you started!
ImportantBefore proceeding, please ensure that you have already set up one or more Pipelines, or Transformations in your OWOX BI project. This is a prerequisite for creating a Data Provider shortcut.
Step 1: Create a Shortcut on the Workspace page
To begin, navigate to the Workspace page within your OWOX BI project. In the top panel, locate and click the "New..." button. From the dropdown menu, select the "Data provider shortcut" option.

Step 2: Configure the Shortcut settings
After successfully creating the shortcut, you will be directed to the Settings tab. In this tab, you have the flexibility to modify the Shortcut category, incorporate an external link, and establish connections with BigQuery tables within your data flow on the Workspace diagram.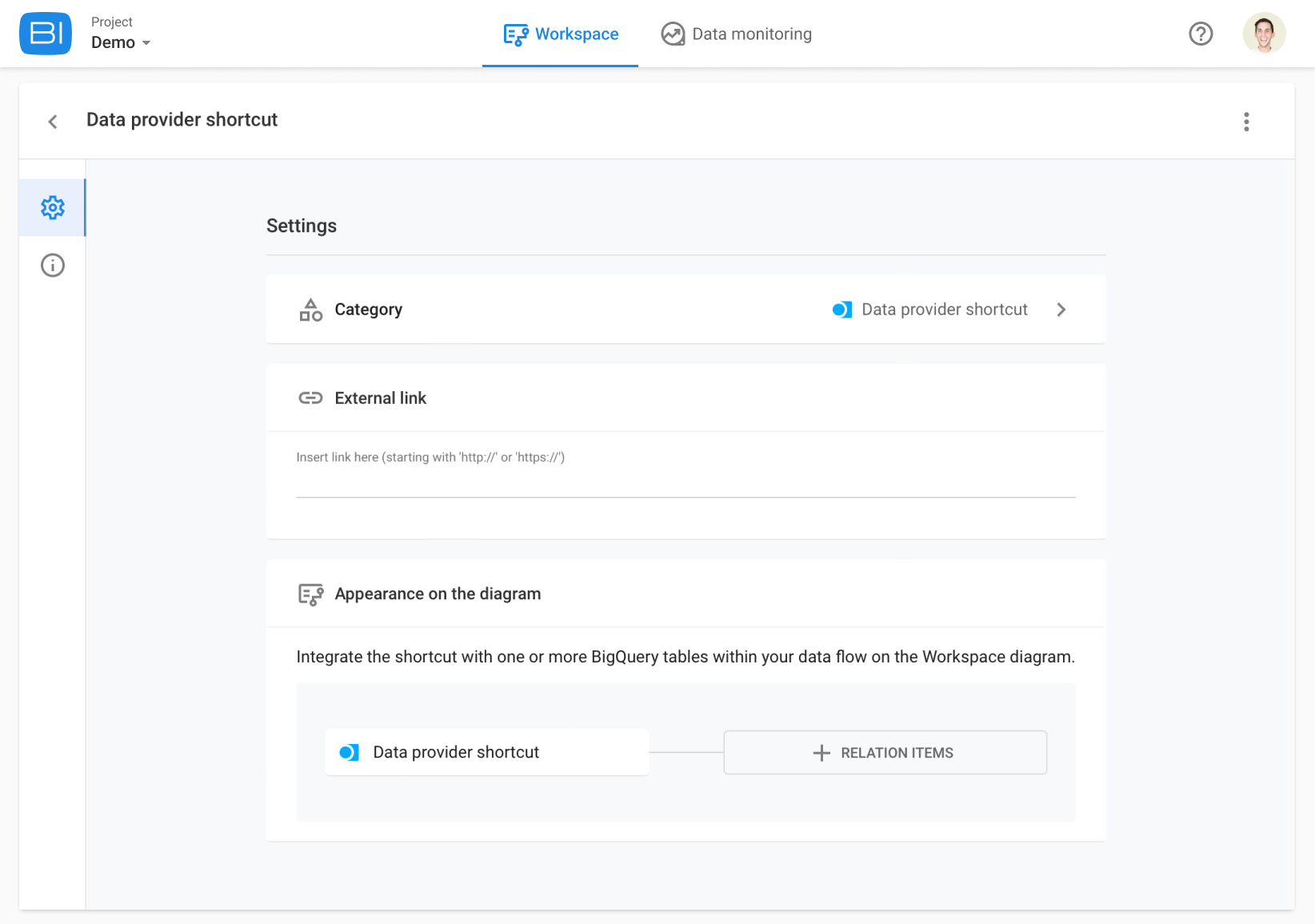 To proceed, follow the subsequent steps.
Adding an external link
In the 'External link' section, insert the desired link into the provided field. Ensure that the link begins with either 'http://' or 'https://'.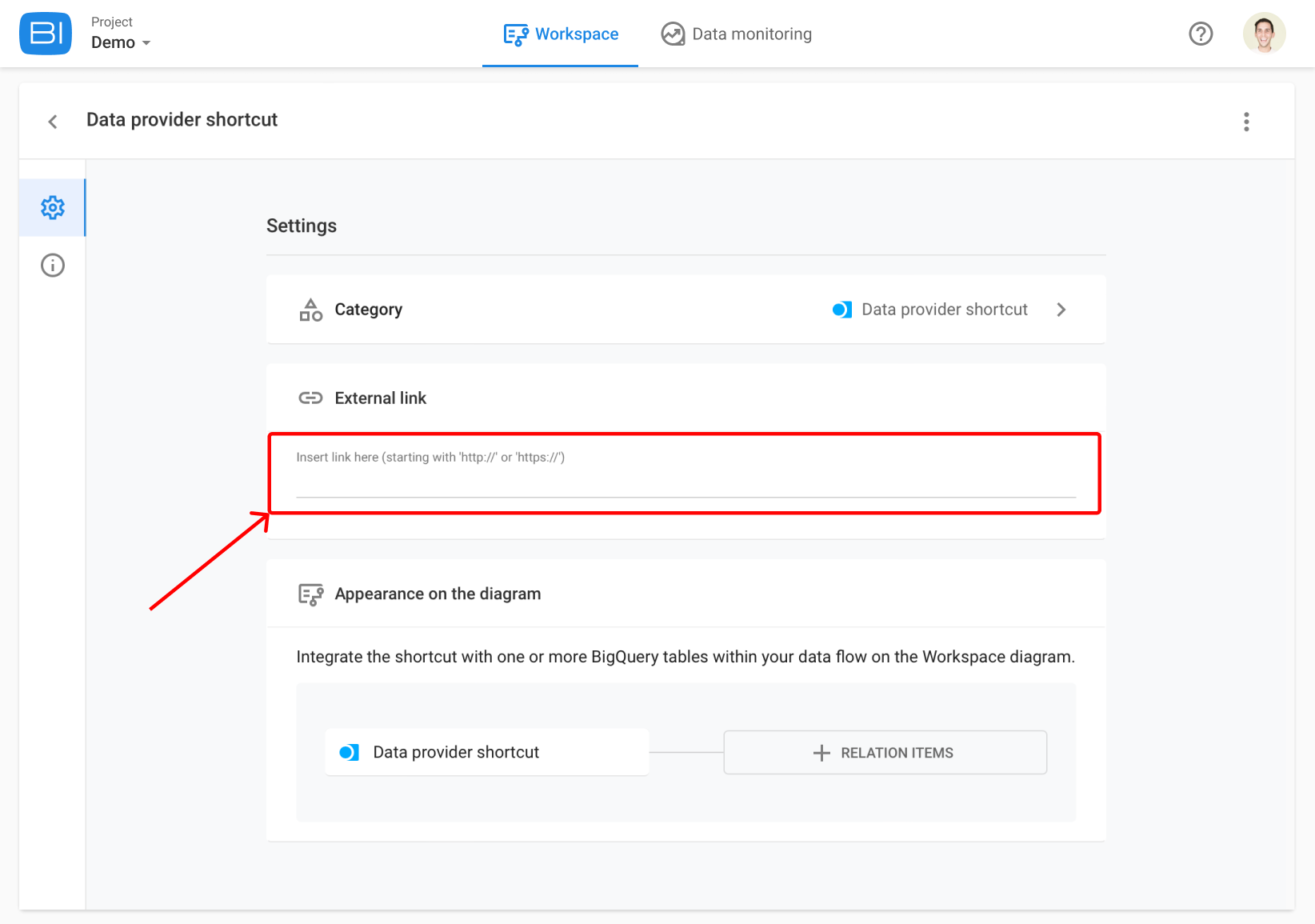 Click outside the field to apply the link. You can directly click the link to open it in a new browser tab or use the 'Copy to clipboard' icon to copy the link.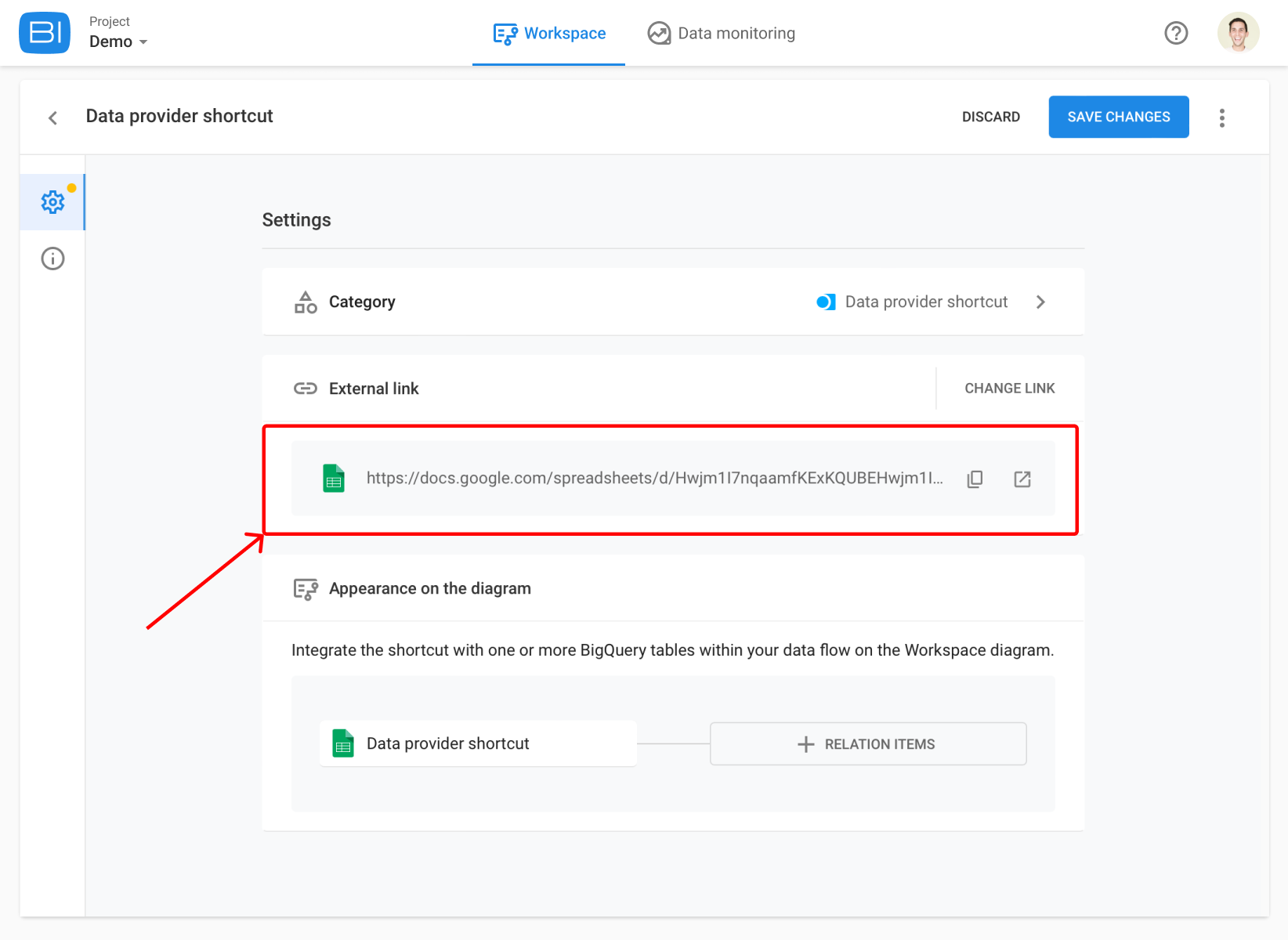 If you need to update the link, click the 'Change link' button and enter the new link.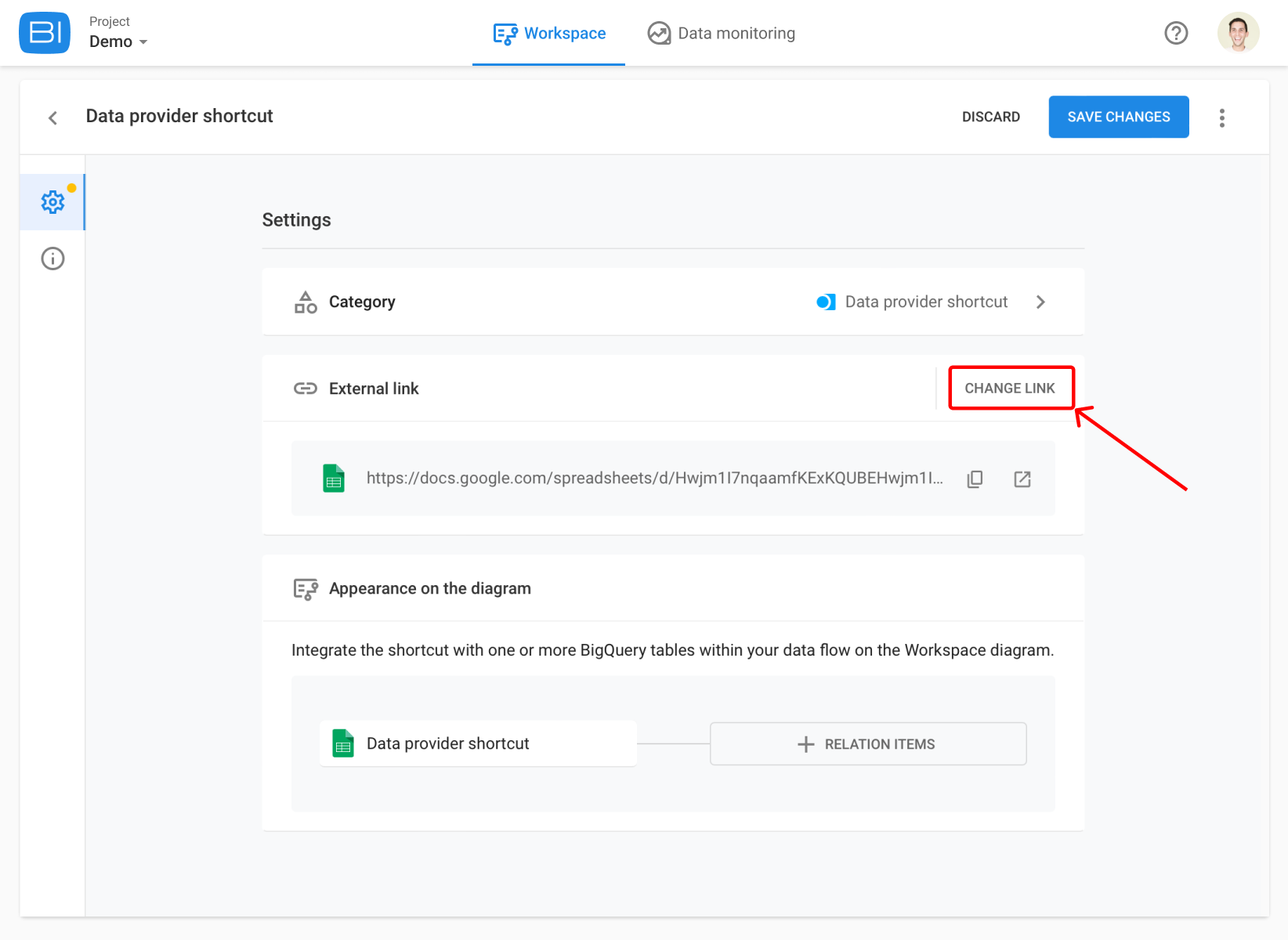 Don't forget to save your changes.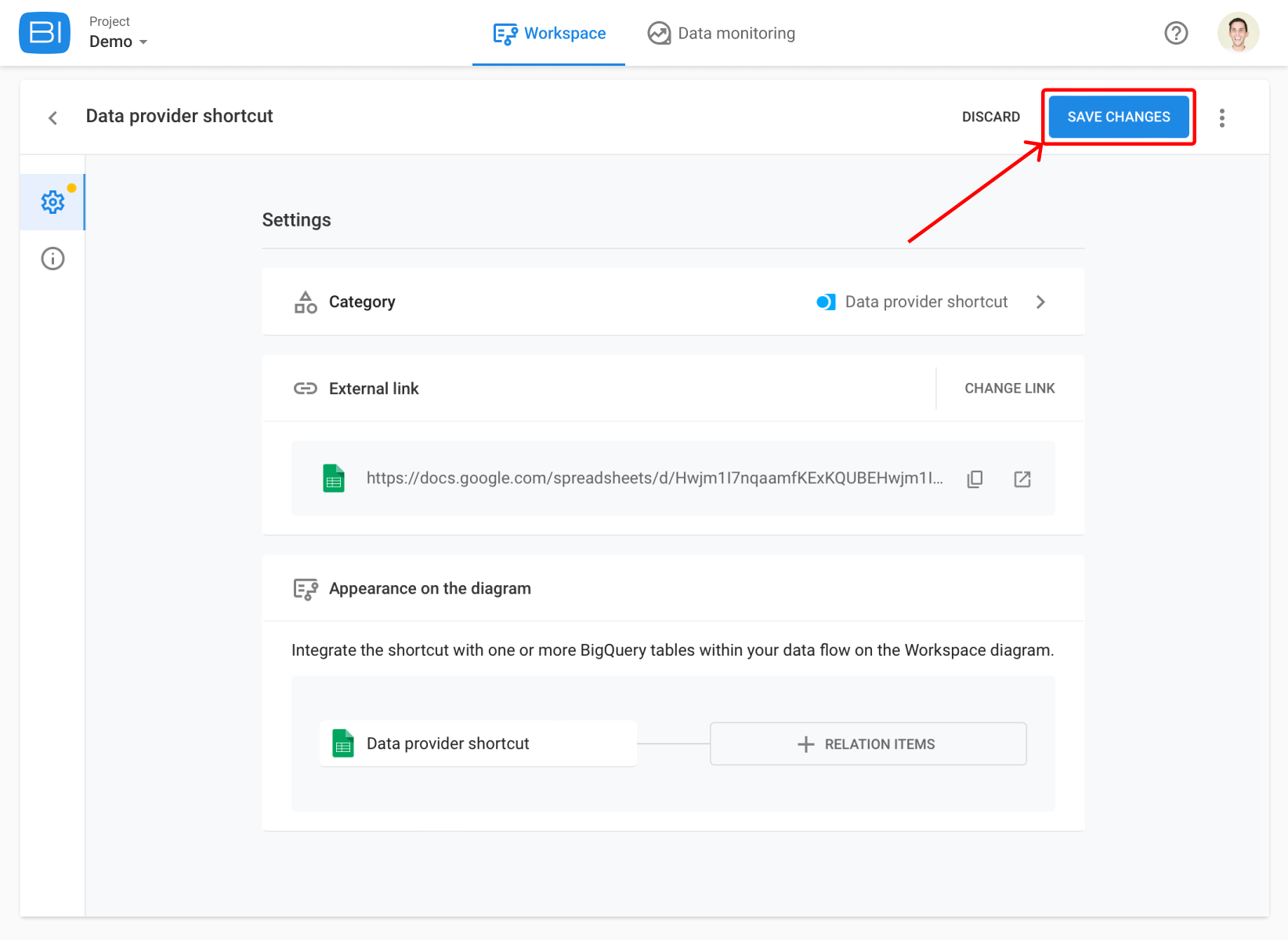 Establishing relationships
To add relation items, click the '+ Relation items' button within the 'Appearance on the diagram' section.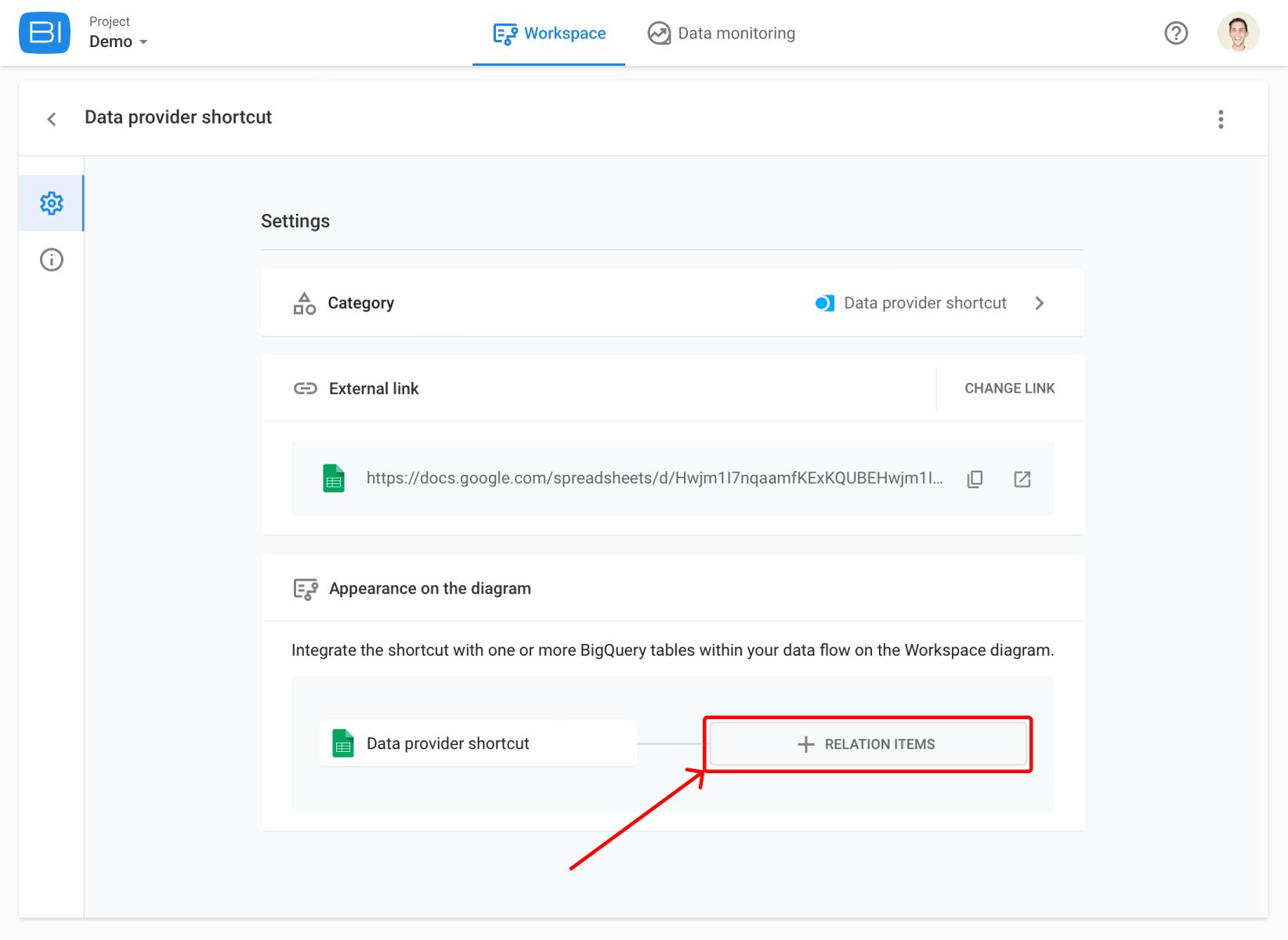 A dialog will appear with a list of available Pipelines, Transformations, and more.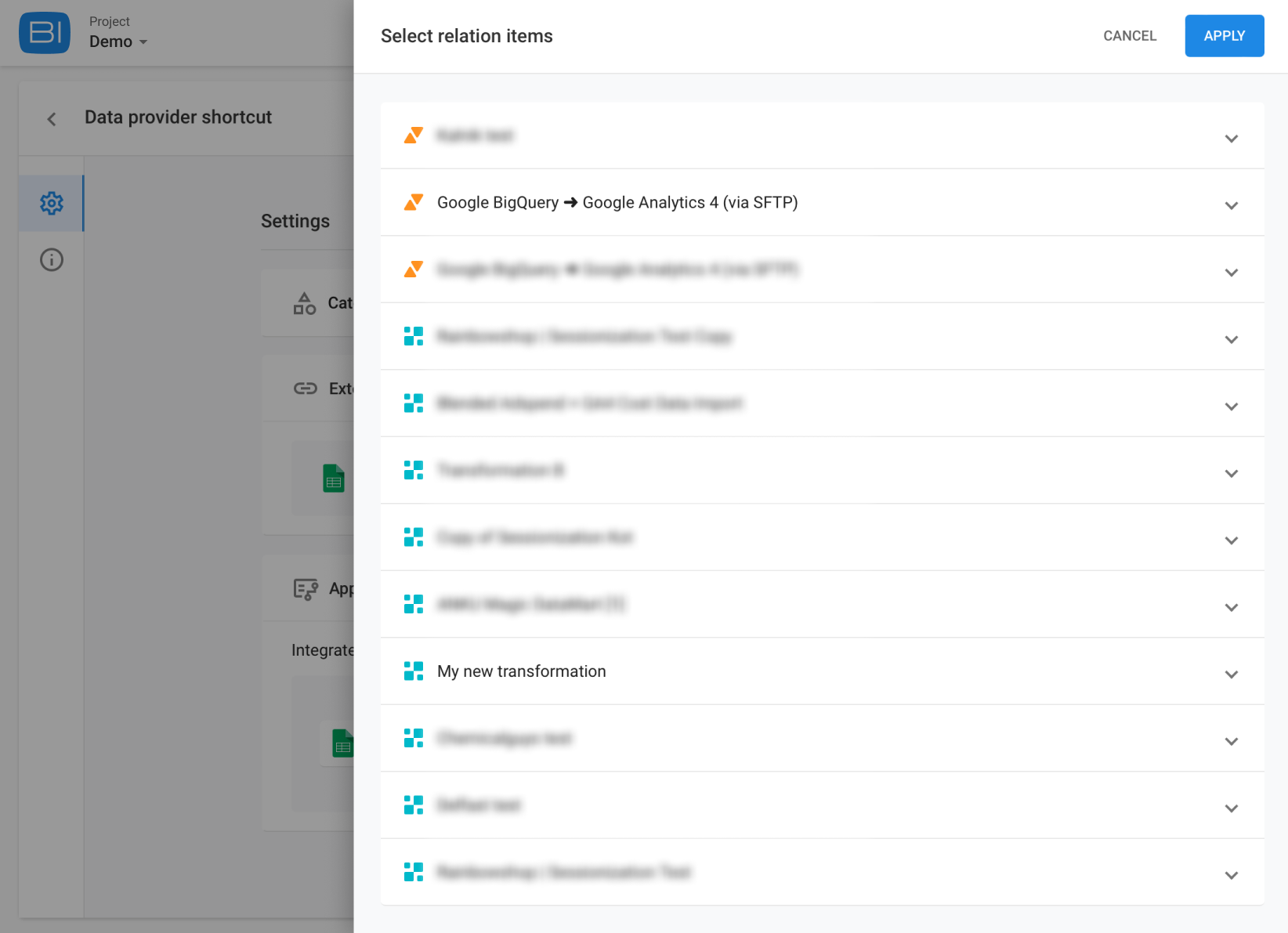 Locate and click on the desired Pipeline or Transformation. You will then see a list of compatible BigQuery tables that can be linked to the Data Provider shortcut.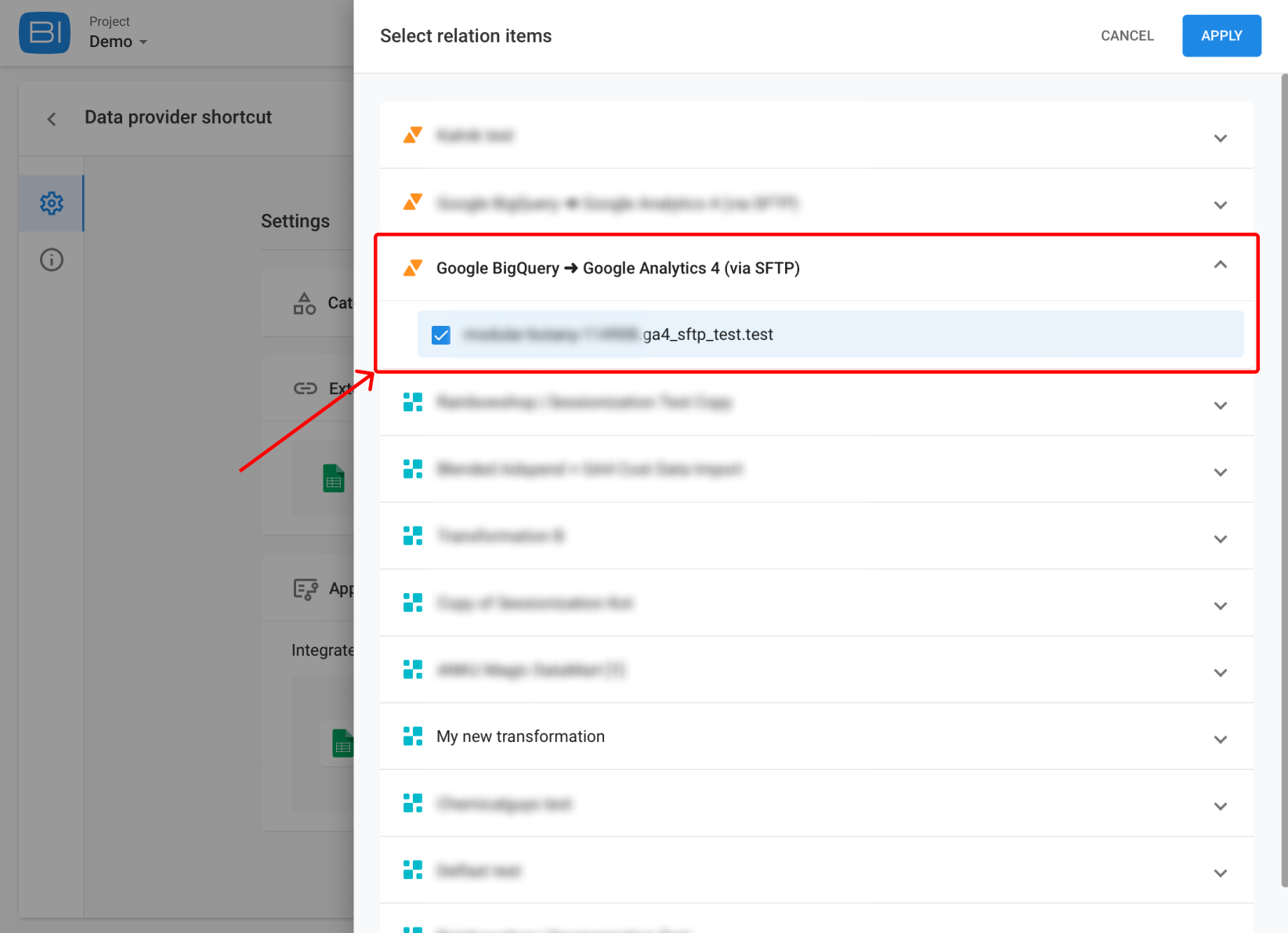 Apply your selections and close the dialog.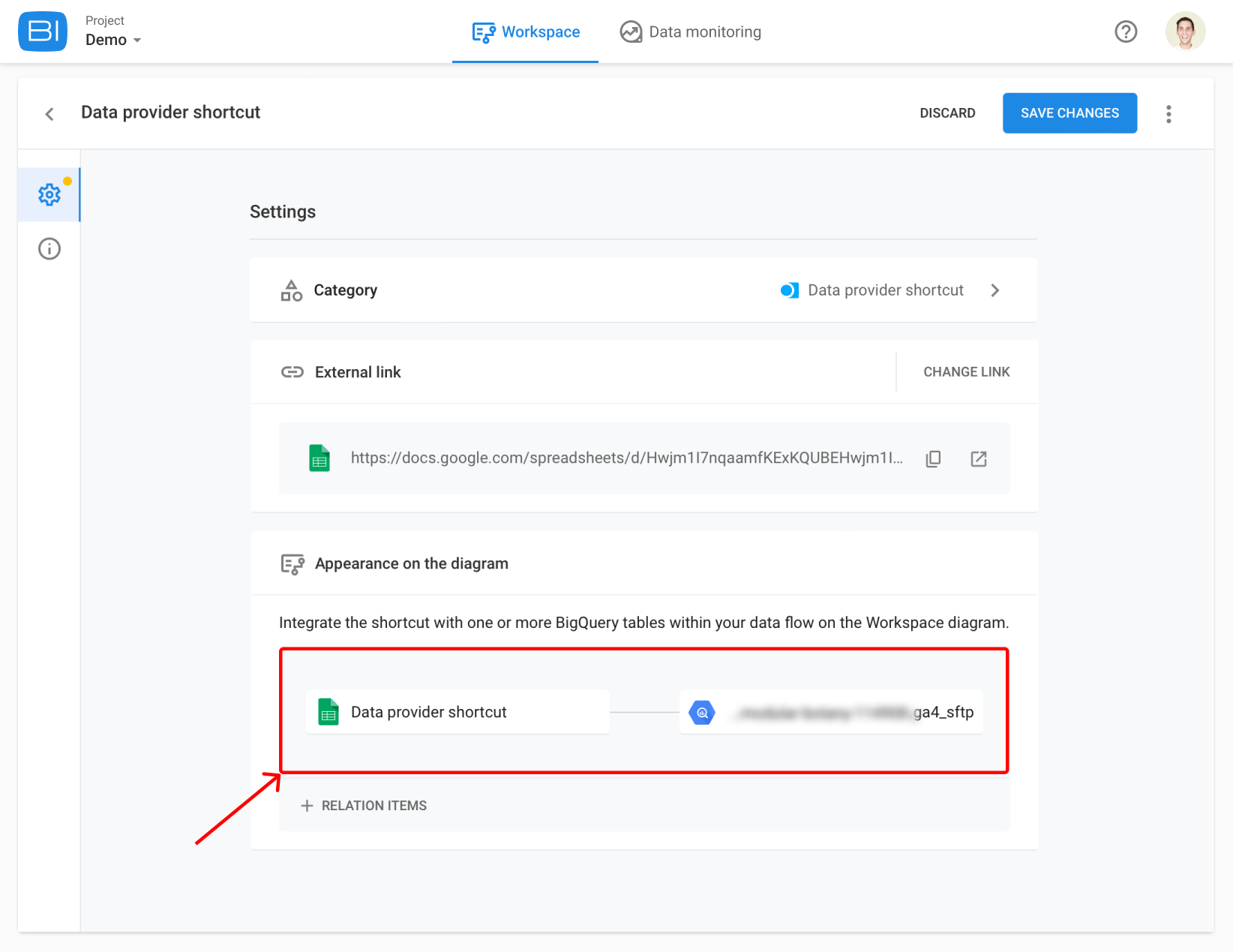 Step 3: Save your changes
Click the 'Save changes' button to save your configuration. Upon returning to the Workspace page, you will spot your Data Provider shortcut in the list view.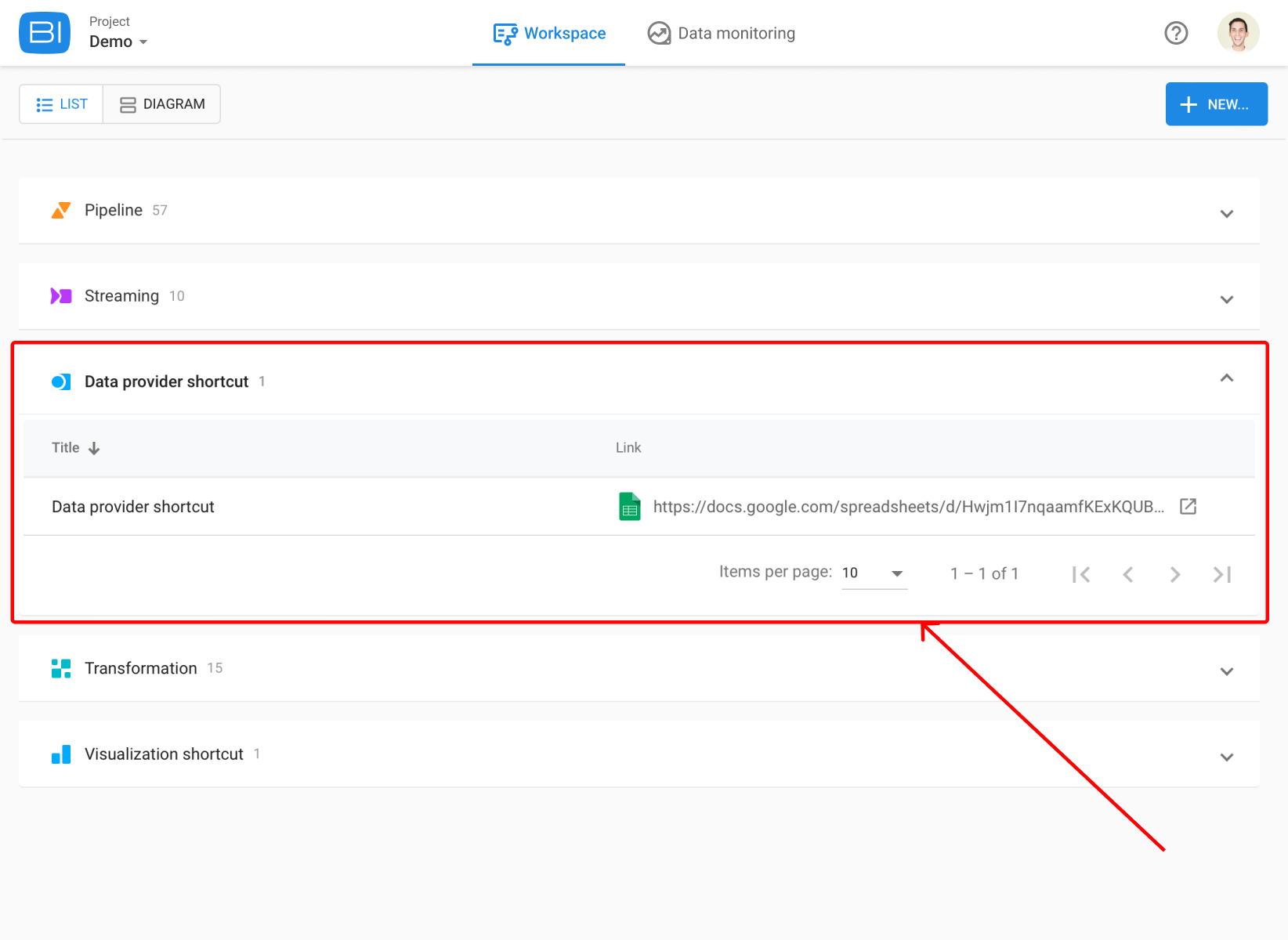 Additionally, you'll see the relationship between the shortcut and the selected BigQuery table in the Diagram view.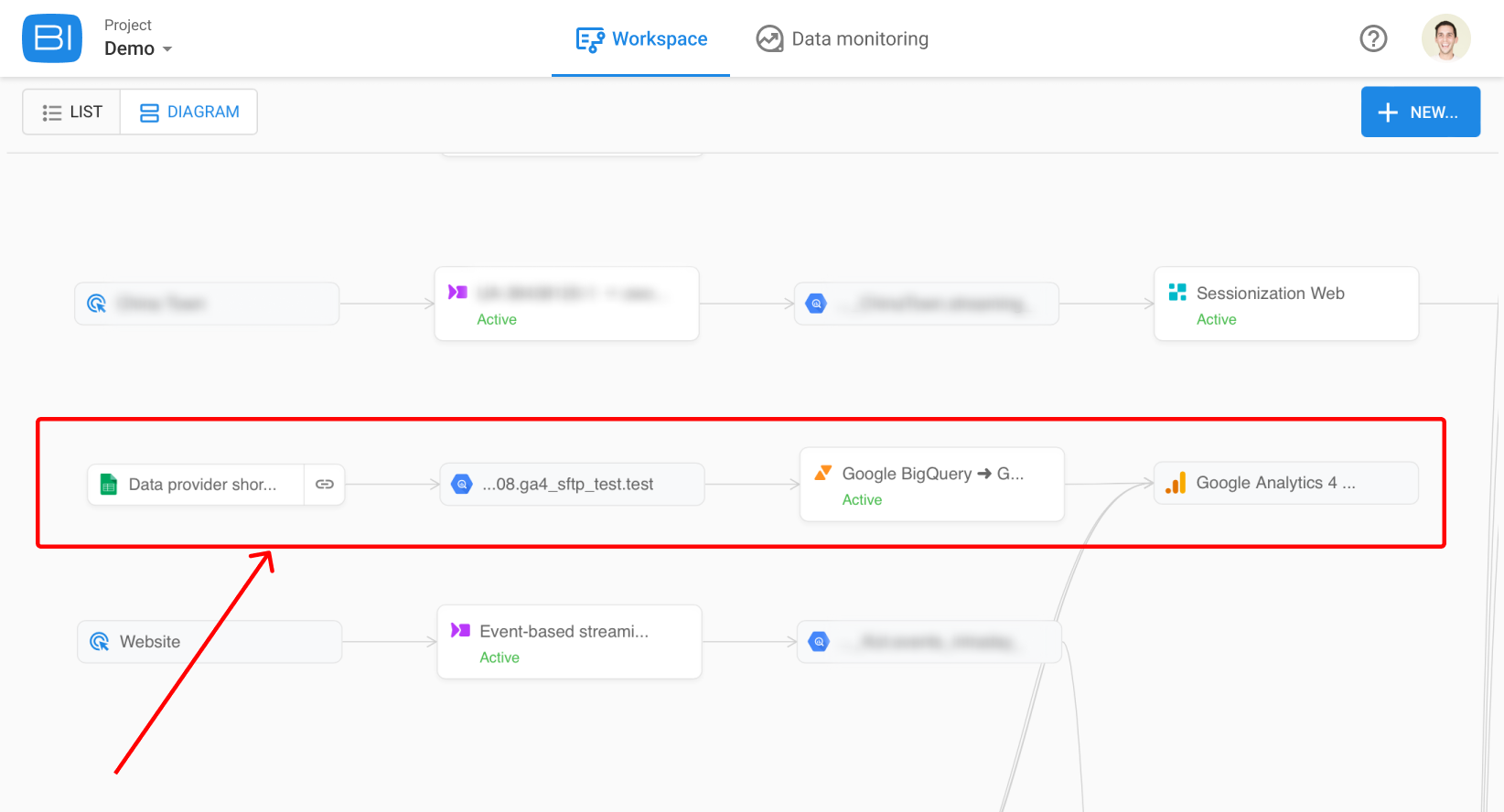 The external link can be easily accessed by clicking on the provided icon.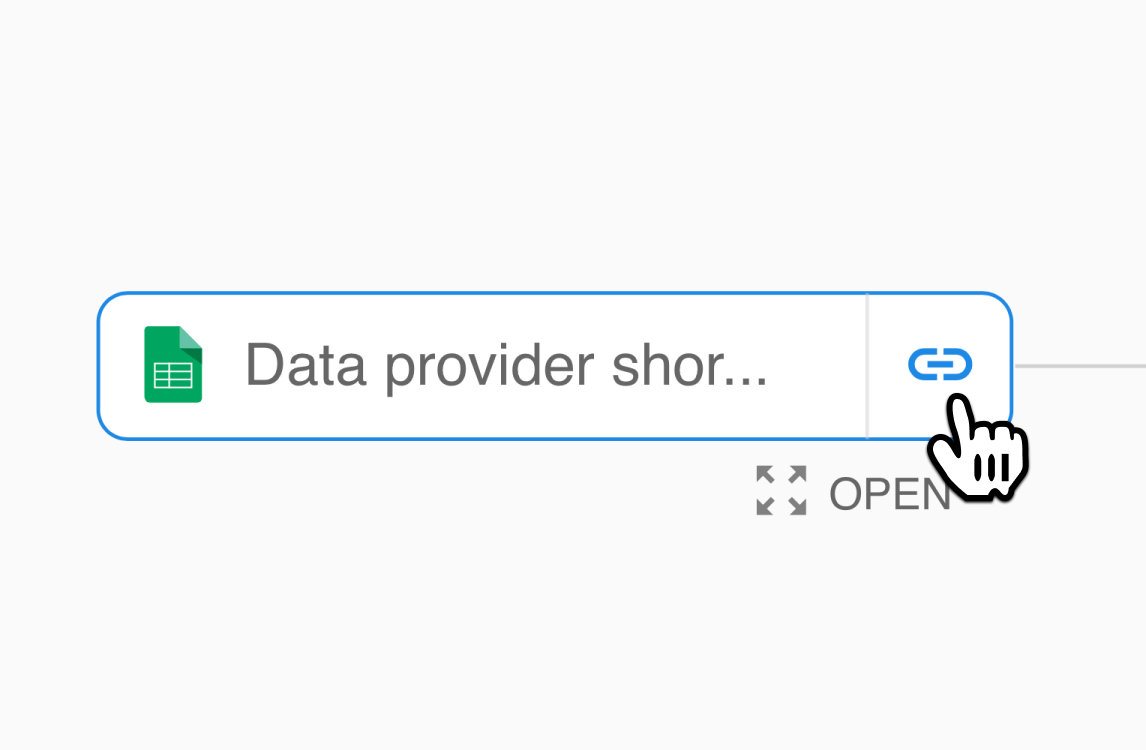 Step 4 (Optional): Add details in the 'Info' tab
In the 'Info' tab of the shortcut, you have the option to specify owner details, such as name and email.
You can also provide a description of the shortcut, which can prove useful to your team members.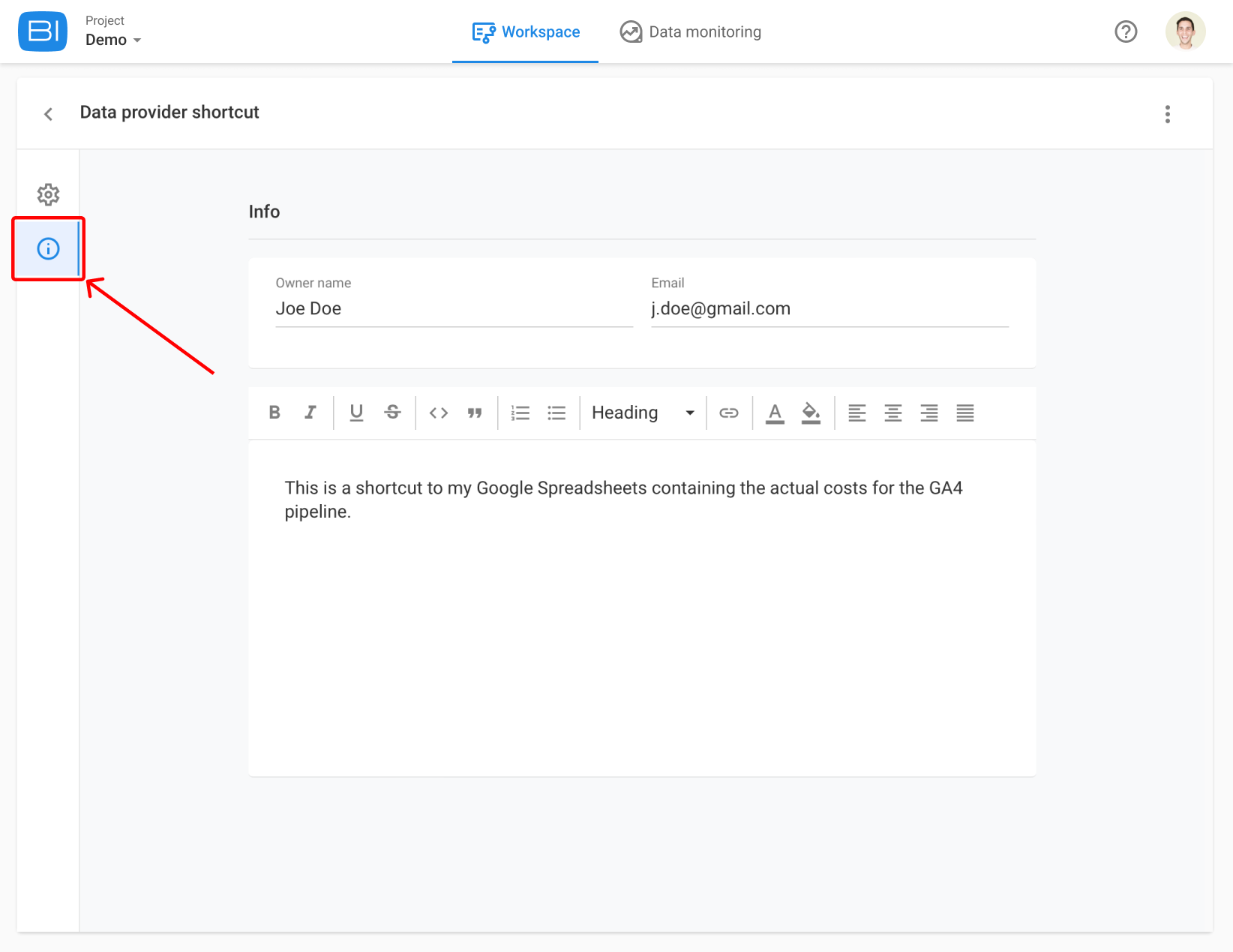 Congratulations! You have successfully created and configured your Data Provider shortcut. With this feature, you are now empowered to efficiently analyze your data and make informed decisions.
Happy analyzing!